6 Reasons to fly into Bradley International Airport in Connecticut
Getting to New England has never been easier, with direct flights to Bradley International Airport in Connecticut.
Bradley International Airport, located in the heart of New England, is the perfect choice for flying into Connecticut. Everything you need for your journey is accessible right from the airport. Known for its friendly and personal approach, Bradley International Airport in Connecticut offers a calm, welcoming environment as a base for all your travel exploration.
Don't just take our word for it – here are seven reasons why you should choose to fly into Bradley International Airport in Connecticut.
1. Daily flights with Aer Lingus
In 2016 Aer Lingus launched a direct route to Bradley International Airport out of Dublin Airport, departing at 2:20pm for a short seven hour flight. This service operates daily from April to September and four times per week from October through March. Guests can travel on an Aer Lingus Boeing 757, sit back, relax and enjoy their complimentary meal as well as the entertainment provided by the individual in-flight entertainment system.
2. US Pre-Clearance at Dublin Airport
All US bound guests can complete US Immigration and Agricultural checks prior to departure from Dublin, which enables them to land as domestic guests and avoid the long queues upon their arrival. Also, thanks to the mid-evening timing of the Hartford bound flight, you miss the busy rush of the morning schedule making your transition even quicker. This gives you complete ease of access and convenience when you arrive into Bradley International Airport in Connecticut, simply grab your bags and go! The average time from runway to car is only 20 minutes.
3. Location
Conveniently located between Boston and New York, Bradley International is perfectly situated for your trip to the Northeast. Connecticut is a very charming destination with a variety of activities available all four seasons. Skiing during the winter, amusement parks and more during the summer and even picking your own apples in the autumn. Stay in idyllic seaside towns that offer picturesque boutique accommodation options, enjoy hundreds of artisan galleries, designer outlets and gourmet markets open all year around. After a long day of activities, guests can savour New England's best seafood at a real roadside clam shack, or dine in one of the finest dining restaurants owned by world famous chefs.
4. Airport Amenities
Bradley International Airport in Connecticut is New England's second-largest airport with 6 million passengers per year, offering travellers a more affordable option to enjoy Northeast USA. Enjoy a range of shopping and dining options right at the airport, including some of the region's favorites, including Phillip's Seafood Restaurant, serving up their famous crab cakes, succulent seafood soups, appetizers and entrees, and Two Roads Tap Room, a beautiful replica of the Two Roads Brewing Company tasting room in Stratford. You can also enjoy a tasty pre-flight cocktail at Traveltini, Bradley's own martini bar featuring classy drinks for those on the go.
5. Conde Nast Award – 5
th

 Best Airport in US

Bradley International Airport was awarded the title 5th Best Airport in the USA by Condé Nast Traveler which surveyed over 300,000 travellers in the 30th annual Reader's Choice Awards to help them create a list of winning favourites.  Voters praised its convenient on-site parking, plentiful charging stations and free WiFi, wonderful restaurant options, and overall relaxed atmosphere – making it an attractive alternative to flying out of New York's and Boston's larger hubs.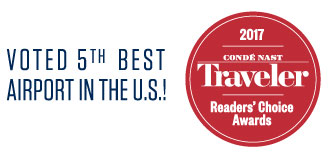 6. Relax in a selection of lounges
If you have some time to kill before you flight then you can treat yourself to some down-time in one of the lounges available. You don't need to be with any particular airline to enjoy the Escape Lounge, conveniently located near Gate 1 where the Dublin flight departs. Catch up on the daily news with a range of complimentary newspapers and magazines, put your feet up in the calming, tranquil space and choose from delicious hot and cold foods, created by a team of dedicated chefs, using only the finest fresh ingredients. Plus, the fridges are stocked with premium wines, beers and soft drinks, and shelves full with liquors from around the world. If you're flying with American Airlines you also have the option to use the Admirals Club.
If you want to get more information on Bradley International Airport or would like to work with them, please contact michael@travelmedia.ie.