In recent years, Connecticut, New England, has increased in popularity for Irish tourists and it's no surprise why. From breath-taking countryside to vibrant cityscapes Connecticut has something to offer every type of holidaymaker. It gets better… Connecticut is also easily accessible from Ireland with direct flights from Aer Lingus from Dublin to Bradley International Airport in Hartford. Mairead Keegan from Click&Go travelled to Connecticut via Bradley Airport and had a great time. Continue reading to find out everything she got up to…
Mairead's New England trip began in Dublin Airport, Terminal 2, where she and her fellow travellers went through U.S. Pre-Clearance. From here, Mairead and her group boarded their Aer Lingus aircraft and took the seven-and-a-half-hour flight to Bradley International Airport. Mairead had a great experience at Bradley International Airport "Arriving into Hartford into Bradley International Airport was seamless. A taxi journey away into Hartford. Definitely getting the holiday off to a great high-end start".
While visiting Connecticut, Mairead and her group experienced a number of activities, including a visit to the village of Mystic, one of Connecticut's premier destinations, which Mairead thoroughly enjoyed.  "We pulled up to Mystic Seaport, a beautiful new state-of-the-art building, but designed around more than authenticity. When we arrived in and the guide said we've got an hour and a half here, I thought to myself, okay, that's a long time for here. And then you just go out the back door and it just opens up along the riverfront, and I was not expecting what you've got there, the facilities that they've got there, and how they recreate the history. It's a living museum. We were very lucky that they were working on the Mayflower, too. So that was definitely I wasn't expecting, you would easily spend a day there, without a doubt".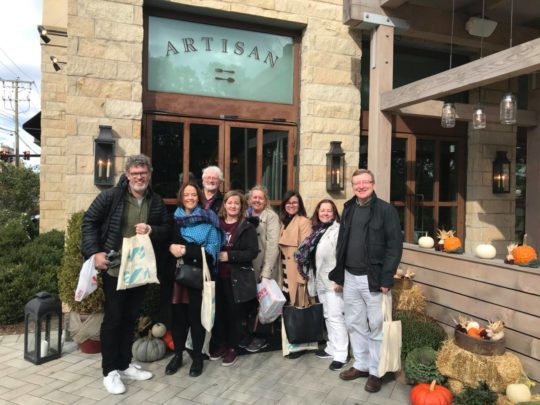 While you may not associate Connecticut with great wine, Mairead and her fellow travellers were pleasantly surprised when they enjoyed a trip to a Connecticut vineyard "Wonderful wine, it was so relaxed. It was breath-taking, it really was. And again, it was the welcoming that we got, and then just seeing it as other opportunities that are there in terms of as a wedding venue. What an amazing wedding venue. You know, getting married abroad is becoming very popular and a lot less expensive than having a wedding at home".
Mairead and her group delved into some U.S. history on their trip and visited Mark Twain's house, which Mairead was very impressed with "The history behind it, and just the house itself. You don't associate the U.S. with great history, because they've got a short history, but this trip, we just went beyond that and behind it.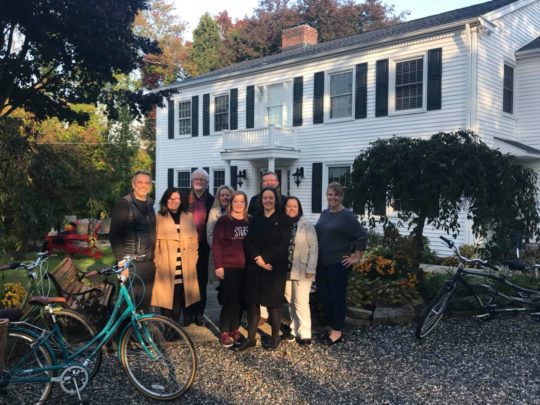 During her trip to Connecticut, Mairead was very impressed the broad range of accommodation in Connecticut, with something suitable for all types of travellers, "I loved the accommodation, the variations in accommodation. You have bed and breakfast, but not the typical bed breakfast that we think of. It was a home away from home with the highest standard of furnishings, comfort. You're wrapped up in warm hospitality with great hosts that invite you into their home. So, we have that on top of your authentic hotel accommodation with the sweeping staircases, and then we have your chain of Hilton accommodation, but they have the Connecticut twist on it, which meant it wasn't mass market, it had its own style, it had its own welcoming hospitality, with the comforts that you know and expect from Hilton".
Overall, for Mairead, her trip to Connecticut exceeded her expectations "What I loved was in the three days, everything we did completely turned my preconceptions of it as a destination upside down on its head. It's not a sleepy destination with what I thought. It has amazing attractions, it has amazing history that it showcases extremely well, and it is authentic U.S.A. with the amazing food to match".  Mairead recommends Connecticut as a fly/drive holiday "The length of stay would be solely dependent on how much the customer had timewise on their hands, because then you would adapt it to that. If I was doing it myself, I would give myself probably seven to ten days, spending two or three nights in the different areas".
Visit Connecticut and discover New England for yourself through Bradley International Airport.
The Aer Lingus service from Dublin to Bradley International Airport operates daily from April to September and four times per week from October through March.
Dublin Departure time: 1420hrs • Flight time: 7 hours • Aircraft: A321neo LR  • Arrival time: 1635hrs
BDL Departure time: 1800hrs • Flight time: 6.5 hours • Aircraft: A321neo LR  • Arrival time: 0505hrs
For more information, please visit www.bradleyairport.com.
Watch Mairead's full Connecticut review on YouTube.