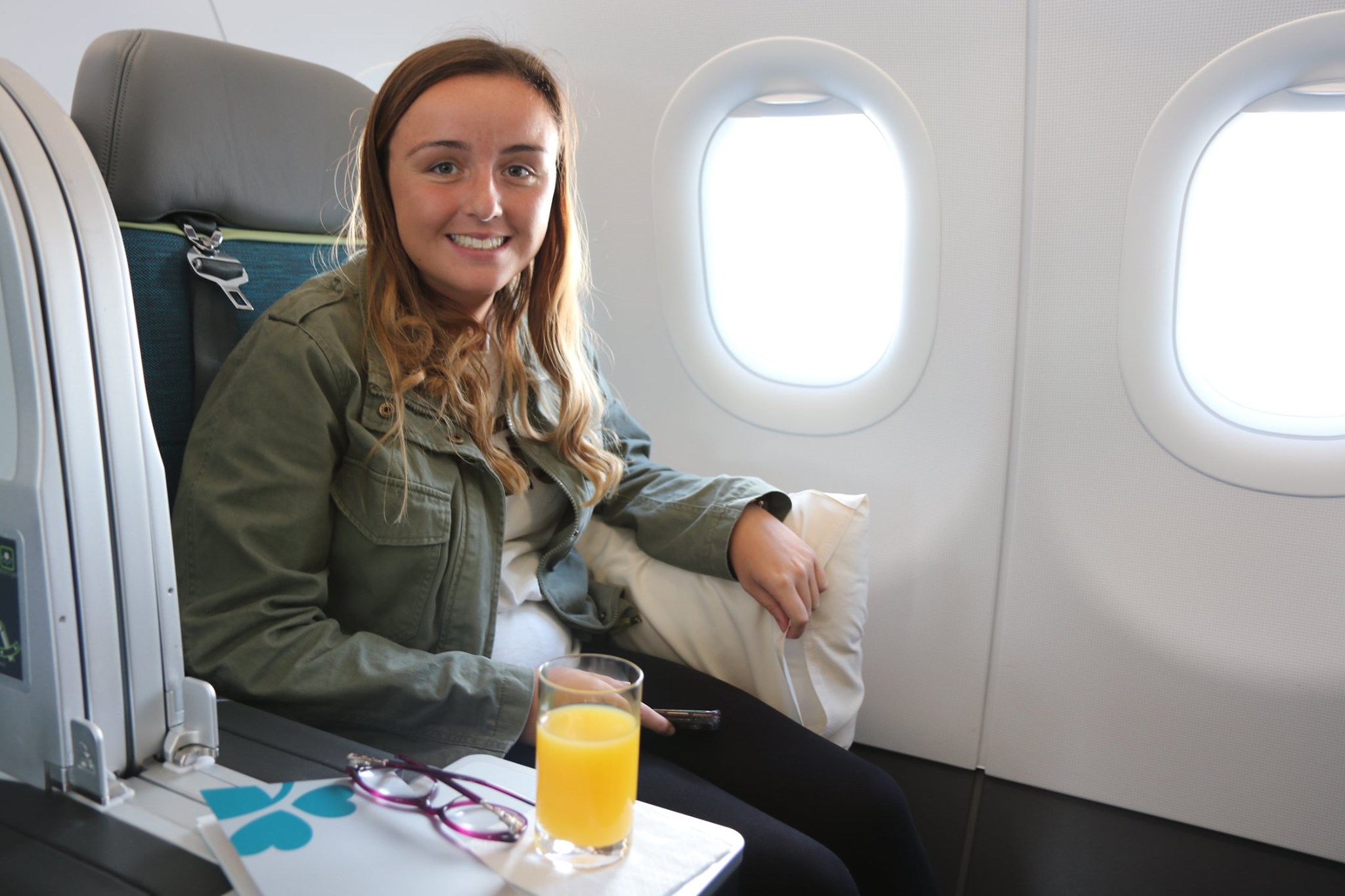 Located a stone's throw from Bradley International Airport, the region of Western Mass is renowned not only for its unspoiled natural beauty but also its rich and diverse culture. Boasting a unique collection of museums, galleries, and gardens as well as a delicious selection of restaurants and dining options, Western Mass has something to suit every type of holidaymaker. In this blog, we talk to Louise Daly of Cassidy Travel who spent four days in Western Mass, flying direct from Dublin to Bradley International Airport with Aer Lingus.
Starting off her journey in Dublin Airport, Terminal 2, Louise and her fellow travellers were treated to an upgrade to business class with Aer Lingus, giving them access to complimentary food and drink in the 51st and Green area after security, an ideal way to relax before the flight. Louise was flying to BDL on the new Aer Lingus A320 Neo and really enjoyed her experience onboard "We were wined and dined for the whole flight, which was really good, and it was spotless! What I loved was it is way more relaxing, and you had loads of space and you feel refreshed getting off the flight".
After a six-and-a-half-hour flight, Louise arrived into Bradley International and within just ten minutes was back down in the baggage hall. From here, the group travelled to the D. Hotel, located just 30 minutes from the airport.  Louise explains "the D. Hotel was perfect for families because the rooms were so big. The restaurant beside it was so nice, we had steak and chips there the first night and it was delicious. It's also in a good location if you want to do adventuring".
On their second day, Louise and her fellow travellers went to Zoar Outdoor to experience white water rafting and to the Yankee Candle Village which she thoroughly enjoyed "The Yankee Candle Village was real Christmassy and festive for the Halloween season as well, and you could see how many flavours they had, and if we wanted to make our own, we could if we wished or we could make wax moulds to bring home".
After spending two nights in the D Hotel, Louise and her group travelled straight into the lively city of Springfield staying in the lovely, modern, one-year old MGM Springfield. Louise loved the location of the hotel "the MGM is in walking distance to the Doctor Seuss Museum, which is really good for families and also adults if they want to discover the history of Doctor Seuss.". The MGM Springfield is ideally located just 20 minutes from the Hartford airport and Holyoke Mall, one of the largest shopping centres in all of New England!
The highlight of Louise's trip to Western Mass was attending the Big E, New England's great state fair, "this is like a huge fair-ground atmosphere, we were there four around eight hours or so, so what the highlight of that was, the CEO of the fair let us go on one of the floats, so we just threw our beads to the festival-goers. The food is really nice, they served lots of traditional New England foods, but even though if you are picky, they do something to suit you, which they did for me.". Taking place annually across 17 days, the Big E is one of the biggest events in the Western Mass calendar, combining the music, food, culture, and fun of all six New England states.
Overall, Louise had a great time in Western Mass and her trip really demonstrated the diversity of activities available here, from water sports to festival fun and everything in between. Louise explains "The Western Mass is definitely a great destination for Irish visitors, the airport's in a really good location, and it's really good for fly drive, if you wanted to travel around Boston and the New England area". We couldn't agree more Louise!
The Aer Lingus service to Bradley International Airport operates daily from April to September and four times per week from October through March.
Dublin Departure time: 1420hrs • Flight time: 7 hours • Aircraft: A321neo LR  • Arrival time: 1635hrs
BDL Departure time: 1800hrs • Flight time: 6.5 hours • Aircraft: A321neo LR  • Arrival time: 0505hrs
Check out Louise's full review of her trip to Western Mass on Youtube.