In recent years, Western Massachusetts is increasing in popularity for Irish holidaymakers, and it's no surprise why! Boasting quirky museums, top-class dining experiences, incredible landscapes and of course, great casinos, the region of Western Mass has something to offer every kind of traveller. Karen Quirke of Click and Go travelled to Western Mass to see what all the fuss was about as part of a familiarisation tour of the region. Karen and her group spent four days here, arriving via Bradley International Airport. Aer Lingus offers regular direct flights to BDL from Dublin making the region more accessible than ever. Read on to find out everything Karen got up to on her trip…
Departing from Dublin Airport, Terminal 2, Karen and her group went through US preclearance and were delighted to be upgraded by Aer Lingus to business class. As part of their upgrade, the gang enjoyed time to relax before their flight in the Aer Lingus 51st and Green Lounge, where they were provided with complimentary food and drink before boarding the new Aer Lingus A321. Karen loved the business class experience with Aer Lingus "They look after you very well. We had different options, we had a starter, main course and dessert. You can get free snacks, and a great choice of films. Overall, it was a brilliant experience".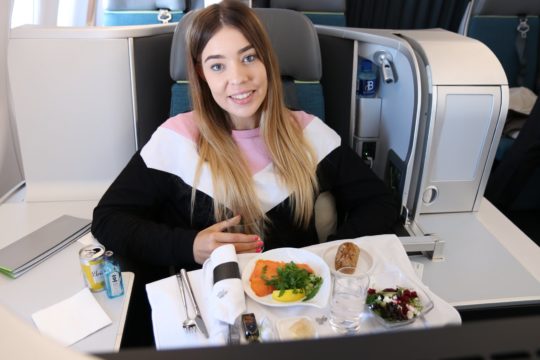 After a seven-and-a-half-hour flight, Karen landed in Bradley International Airport, Hartford. The quaint size of BDL makes it very appealing to travellers and Karen found this very convenient, "once we landed at Bradley International Airport it was very quick, we were out got our bags and everything in less than 10 minutes".
From the airport, Karen and her group drove to Holyoke, where they stayed in the D. Hotel. Karen really enjoyed her stay "It was a lovely little hotel and they looked after us well. Holyoke is a perfect location". The next day, Karen and her group enjoyed an afternoon of adventure at Zoar Outdoor, where they went white water rafting! This was the highlight of Karen's trip to Western Mass, "I loved every minute of, I thought it was a brilliant experience. It was the first time I ever did it and I would definitely recommend it for everyone to try, definitely once in a lifetime experience, I'd love to do again". After this, the gang went to the Yankee Candle Village, the largest Yankee Candle Store in the world! According to Karen "They have a great selection, they have their Christmas village which I thought was amazing, it'd blow your mind even if you are a Grinch like me and you're not into Christmas until December. It was still great see and to experience".
The next stop for Karen and her group was the MGM Springfield. This hotel is just one years old and offers modern and spacious rooms. Karen thoroughly enjoyed her stay here "it was absolutely amazing. The hotel rooms are unreal, the interior's unreal and the location is very good as well". The MGM is located a stone's throw from The Amazing World of Dr. Seuss, a guaranteed fun day out for all kid – both big and small!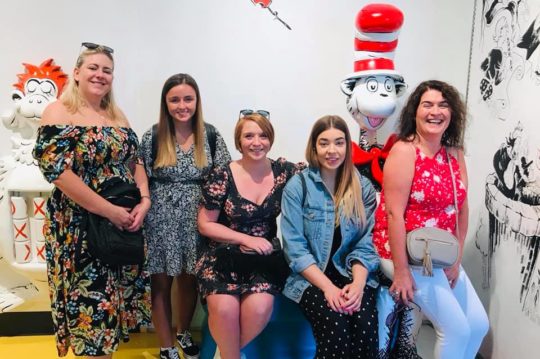 To top it all off, Karen and the gang attended the famous New England state fair, The Big E. The fair is held every year across 17 days and offers culture, food and fun for all attendees! Karen had a great time at the Big E "You can try loads of different types of foods, you get to experience the culture, it was a great day and great event for all of us to be a part of". We can't think of a better way to finish off a trip to Western Mass!
The Aer Lingus service to Bradley International Airport operates daily from April to September and four times per week from October through March.
Dublin Departure time: 1420hrs • Flight time: 7 hours • Aircraft: A321neo LR  • Arrival time: 1635hrs
BDL Departure time: 1800hrs • Flight time: 6.5 hours • Aircraft: A321neo LR  • Arrival time: 0505hrs
Watch Karen's full review of her trip to Western Mass on YouTube.