Home to lush landscapes, vibrant culture, and some of the quirkiest museums in the U.S, Western Massachusetts has something to offer every type of holidaymaker, in this blog, we talk to Pauline Jordan of Platinum Travel about her experience spending four days in Western Mass, flying direct from Dublin to Bradley International Airport, Hartford Connecticut with Aer Lingus.
Pauline began her holiday in Dublin Airport, Terminal 2, where she went through US pre-clearance and was treated to an upgrade to business class from Aer Lingus, giving Pauline and her fellow travellers complimentary access to 51st & Green, the US preclearance lounge. Pauline was flying to BDL on the brand-new Aer Lingus A320 Neo and really enjoyed her experience onboard "I loved Aer Lingus. Firstly, brand new aircraft. The business class is absolutely fabulous, it's one of the nicest ones I've ever travelled on. I have been in business class on other flights. The food, the drink, it was A class."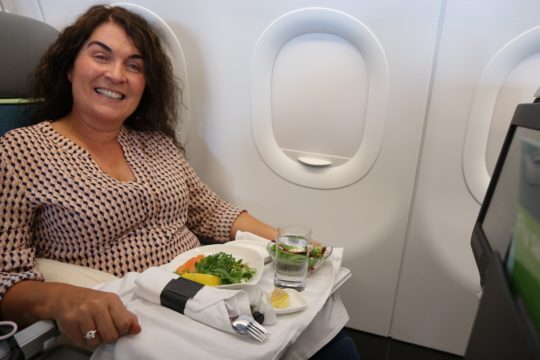 After a six-and-a-half-hour flight, Pauline and her group touched down in Bradley Airport and within ten minutes of departing the aircraft, were in the baggage hall. Pauline was very impressed with the convenient size as well as the location of Bradley International Airport, "It's very small, very convenient. It's an hour and a half to Boston, and it's 30 minutes to Springfield, Massachusetts". From here, the gang drove to The D. Hotel, which is just a half-an-hour drive from the airport. The hotel boasts beautiful spacious rooms and an incredible steak-house restaurant on-site, "it's a beautiful hotel, nice and quiet. It would suit families, because of how big the rooms are, or couples alike. There is private parking and it's out in the country".
The next day, Pauline and her group were in for a treat as they went to Zoar Outdoor to experience white water rafting, which she thoroughly enjoyed! After this, the gang took a trip to Massachusetts' famous Yankee Candle Village, the largest Yankee Candle store in the world "There was everything and anything. Candles, gifts, sweets, Christmas shop, you name it. It was just, something I will never experience again".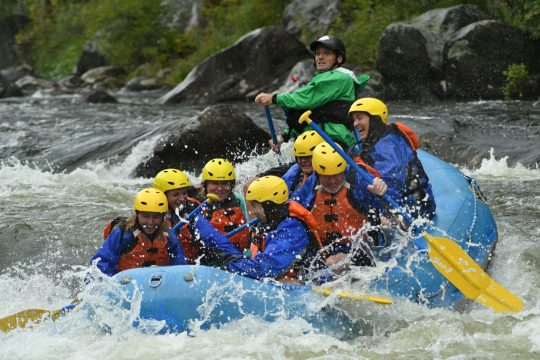 After two nights in the D. Hotel, Pauline and her group moved into the vibrant city of Springfield, staying in the new MGM Hotel. Pauline loved the atmosphere and experience in the hotel, "It's super new, there's gambling, there's food, two very good restaurants". The MGM Springfield opened just last year and is in a perfect location, just a 20-minute drive from Hartford airport and Holyoke Mall, one of the largest shopping centres in New England!
The highlight of Pauline's trip was attending the Big E, New England's great state fair and the world's only multi-state fair. This annual outdoor festival takes place across 17 days and centres around the food, music and culture of the six New England States. At the Big E, Pauline and her group were given the once-in-a-lifetime opportunity to ride on one of the floats in the parade which was undoubtably the peak of her trip, "that was definitely the best part of our stay, it definitely was the high".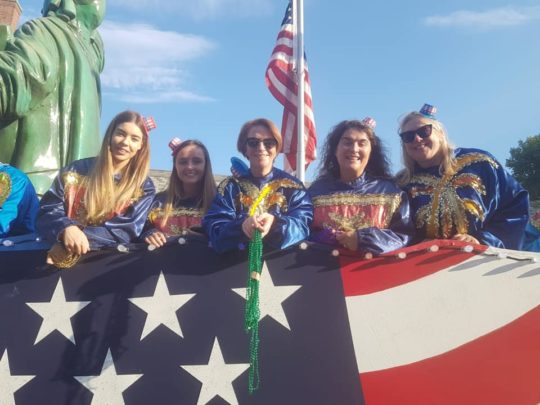 Overall, Pauline had a wonderful time in Western Mass and she believes it's the perfect holiday spot for a wide range of travellers "I've never been to Massachusetts, it's always somewhere I wanted to go. I would highly recommend it for families, fly drive, independent holidays. It is stunning".
The Aer Lingus service to Bradley International Airport operates daily from April to September and four times per week from October through March.
Dublin Departure time: 1420hrs • Flight time: 7 hours • Aircraft: A321neo LR  • Arrival time: 1635hrs
BDL Departure time: 1800hrs • Flight time: 6.5 hours • Aircraft: A321neo LR  • Arrival time: 0505hrs
For more information on services see: Bradley International Airport.
Check out Pauline's full review of her trip to Western Mass on Youtube.